Your company is in the process of rolling out a fantastic new tool to make access to apps more conveniently accessible from a single page without having to remember passwords or logins.
Below is a brief overview on the rollout process and how this will play out in the following days. Please take the time to get across it to make sure there are no surprises!
The process works in three stages as follows:
Step #1 – 5 Minute First time PC setup
When it's time for users to be invited to access the platform, they will receive an email with a link to enrol in Practice Protect which looks like this.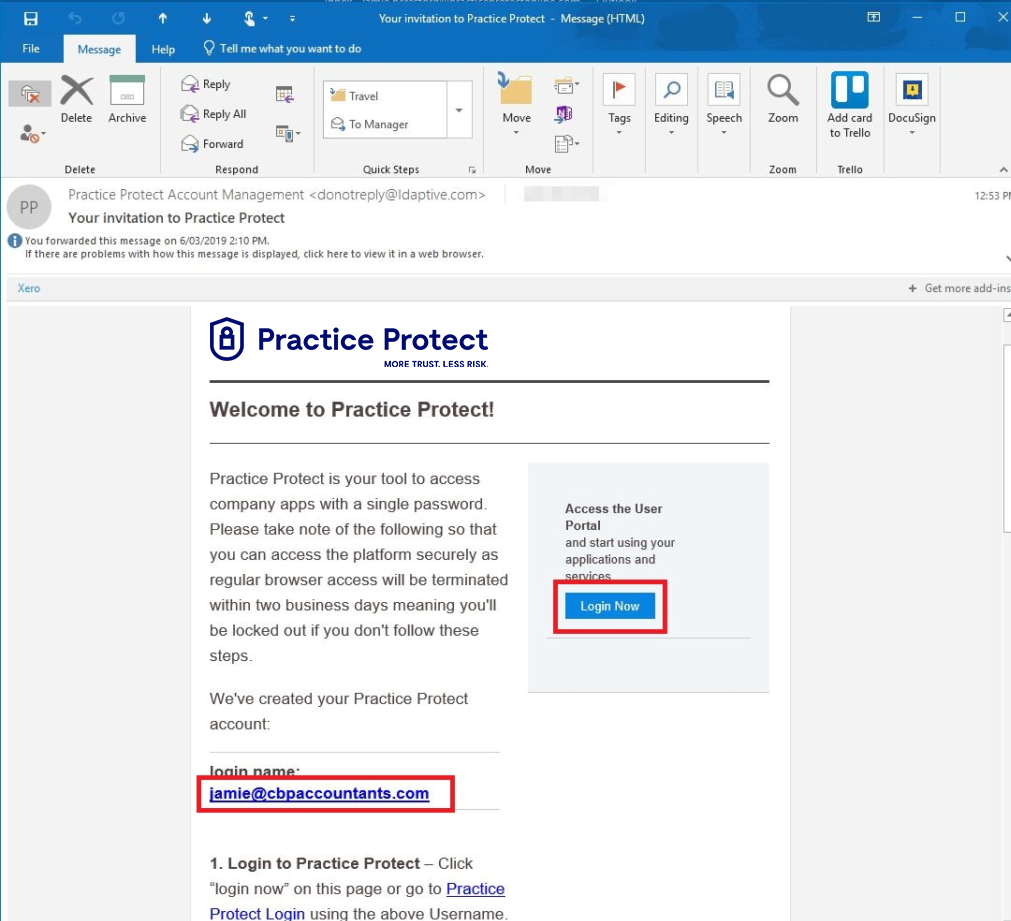 Here's what team members need to do to setup Practice Protect for the first time:
1- Click the 'login now' link in the email, then login and install the Idaptive browser extension
2- Create your security questions and setup two factor authentication
3- Click on each app tile and enter your existing password.
For more detailed information on how to setup Practice Protect for the first time refer to the First Time PC Setup Article here
IF YOU DON'T COMPLETE THESE STEPS YOU WILL NOT HAVE ACCESS TO YOUR WORKING APPLICATIONS IN THE NEXT FEW DAYS WHEN STEP #2 BELOW TAKES PLACE.
How we keep you informed: As team members complete first time PC setup we will keep the password admin (our point of contact at your company) up to date with a daily email to update them on who has and hasn't completed step #1 for follow up of those that haven't.
Step #2 – Initial App Activation
Once each team member completes first time PC setup we will activate apps on a user by user basis, prioritising the most commonly used applications.
When app activation takes place, the respective team members' direct browser app access will be terminated and team members will be required to access apps via Practice Protect.
Although this is a smooth process we do ensure our product engineers are on hand in the event anyone needs help on the below contact details.
Step #3 – Remaining App Activation
Once each team member is successfully accessing the initial apps in Practice Protect we will add your remaining apps incrementally. As each app is activated in Practice Protect, direct browser access will be disabled and team members will need to access these apps via Practice Protect only.
How to Get Help
How do we get help if we need it? – Although the setup process is communicated clearly we understand that team members may require reactive support when their regular access is terminated. We provide reactive onboarding support by phone at 1300 010 114 (for Australia) or +1 (855) 922 2979 (for North America) . State your firm name and you'll be transferred to the product engineer working on your onboarding project.