Mandatory Two Step Authentication at Xero and Merging XPM/Xero logins
You may already be aware that Xero are making Two-step authentication (2SA) compulsory from March 1 which means all users will need to authenticate with a secondary code in addition to their password to login. This will be a welcome change with the merge of XPM and Xero logins, however like any change it may interrupt your team members so it's important you're prepared ahead of time.
Why is this happening?
This has been forced on Xero by the ATO's new operational framework which mandates 2SA. Xero are doing a fantastic job of minimising the impact to their clients however being such a large change to the fundamentals of their identity system it's not going to be invisible to users and may cause interuptions if necessary preparation steps are not taken.
To prepare their systems for 2SA, Xero are first merging the Xero Practice Manager (XPM) Green and Xero (Blue) logins into a single identity. There is no published schedule on when this is happening but we expect it to be iminent and be rolled out in batches.
Step #1 – To minimise the impact to your firm, setup Two Step Authentication for all users asap before the XPM/XERO merge is applied to your firm.
For step-by-step instructions on how to setup Two Step Authentication click here
Step #2 – Merging your XPM and Xero login screens.
In preparation for the changes, you should see a new icon in your Practice Protect Portal called "New Xero Login" which is the new merged login. Disregard this for now.
At some point soon, XPM will present a screen like the below when you login: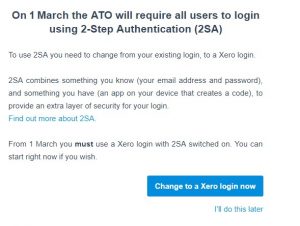 When you see this screen select "I'll do this later" to minimise any disruption to your firm and schedule a session with us here.
If you would prefer to proceed without assistance, ensure that Xero is logged in on a separate browser tab on the same browser before logging into XPM and following the steps.

As more information from Xero comes to hand we'll be posting a step by step article. We're working quickly to roll with the changes as information comes to hand. For more information on Xero's website check out this article.