What is Single Sign-On (SSO)?
Single Sign-on (SSO) is an authentication tool that allows users to securely access different applications and services with just a single set of credentials. It eliminates the need to memorize and enter different usernames and passwords for all the applications you and your employees use throughout the day.
How SSO Works
Federated identity is the concept that SSO is built on. Federated identity is a way of linking a user's identity and attributes across different, trusted systems. Once a user is 'trusted' by a system, they (the user) are then granted access to all other systems that have a 'trusted' relationship with it.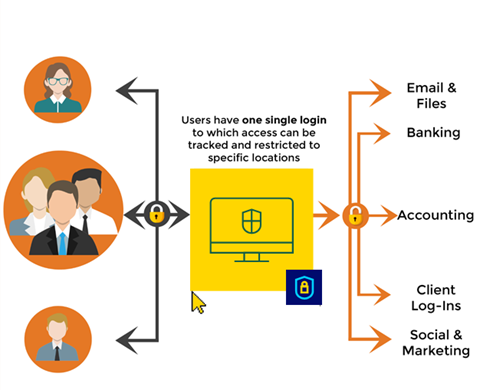 Benefits Of SSO
Lessens need to remember multiple passwords. Single Sign-On lets employees memorise and use just one strong, unique password (one set of credentials).
Secures user access. Practice Protect's SSO solution allows you to see which users accessed which applications at a given time, and where these applications were accessed from. This ties into the Practice Protect Access Hub as well, with one-click lockout to revoke access from your company apps if an employee leaves your firm.
Segregates app permissions. SSO lets you configure your employees' access rights, letting you grant employees access to apps based on what their roles are or which department they belong to.
Enables users to be productive. With SSO, your employees spend less time trying to remember their passwords for each application they need to access or requesting password resets when they forget.
Secures your firm for the future. Upon deploying SSO for your firm, you can then roll out other security measures like two-factor authentications for your apps.
Can I implement SSO myself?
SSO is simple to implement but a lot can go wrong if you choose to do it yourself. A small mistake can have a massive negative impact. It is recommended that Practice Protect techs enable SSO for your apps.
Below is the list of Apps we can directly integrate SSO
• BGL 360
• Nimbus
• CaseWare
• Dropbox
• Zendesk
• Box
• Slack
• HubSpot
• Fuseworks
• Zoom
• Jira
• iManage
• Annature
Note: We are always adding more SSO integrations, reach out to our support team if an application you have isn't on the list.