Purpose
Enabling Active Directory Authentication Library (ADAL, also called modern authentication) is necessary to support smart card authentication. ADAL must be enabled for Office 365 clients as well as the Office 365services that support those clients for successful smart card authentication.
ADAL is not enabled by default on all Office 365 services; it is only enabled for SharePoint Online. You must enable ADAL for all Office 365 services (Exchange Online and Skype for Business Online) to support smart card authentication to related client applications.
This document serves as guide on how to enable ADAL in office 365. The instruction is to be done by an IT Expert with deep knowledge in Office 365.
Prerequisites
Office 2016 installed on client computer
Admin Account in O365
Windows Powershell installed on the client PC who will perform the instruction
Instructions
1. Login your local computer and open Windows Powershell and run the below command. Select Y, to enable windows PowerShell to tun signed scripts.
Set-ExecutionPolicy RemoteSigned


2. Run the below command. In the Windows PowerShell Credential Request dialog box, type the Admin account and password in O365, and then click OK.
$UserCredential = Get-Credential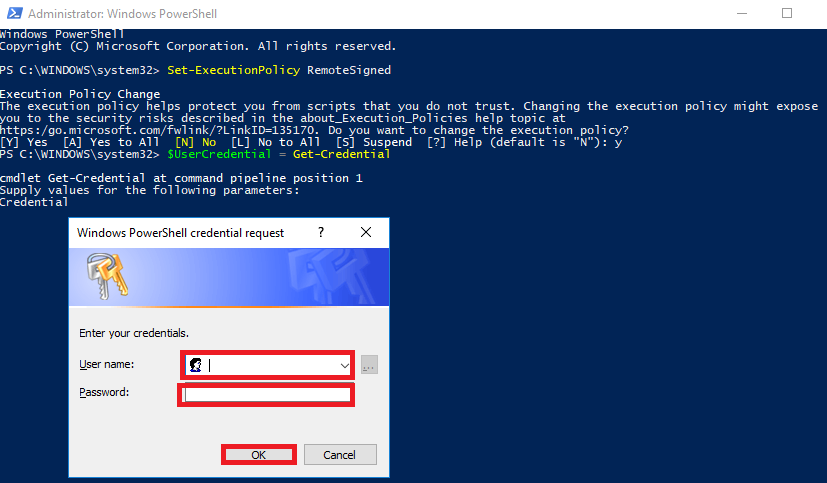 3. Run the below command.
$Session = New-PSSession -ConfigurationName Microsoft.Exchange -ConnectionUri https://outlook.office365.com/powershell-liveid/ -Credential $UserCredential -Authentication Basic -AllowRedirection
4. Run the next command.
Import-PSSession $Session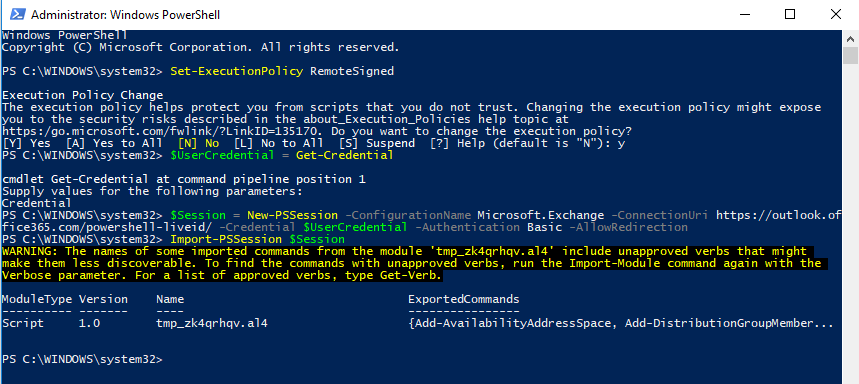 5. Verify if ADAL is enabled. By default it is disabled. Run the below command.
Get-OrganizationConfig | ft name, *OAuth*


6. Run the following command to enable ADAL for Exchange Online.
Set-OrganizationConfig -OAuth2ClientProfileEnabled:$true
7. Verify if ADAL is now enabled. Run the below command.
Get-OrganizationConfig | ft name, *OAuth*