This article provides a step-by-step overview of the Onboarding Journey.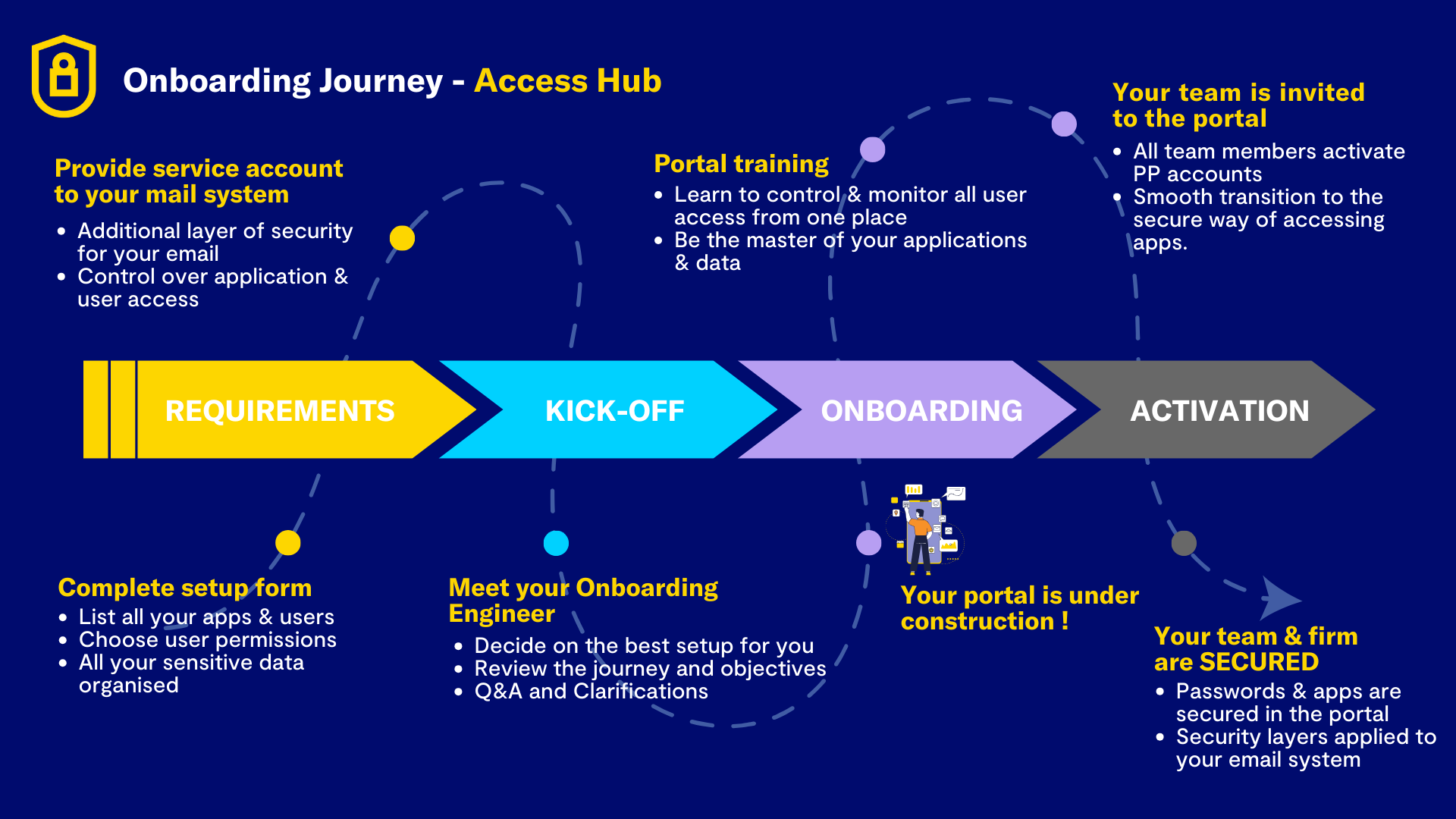 Phase 1 – Gather Requirements
You will receive an email requesting the completion of the setup form and the creation of a service account in preparation for your Kick-off meeting!
Phase 2 – Kick-off meeting
During the Kick-off meeting, you get to meet your dedicated Onboarding Engineer, who will review your completed setup form and current configuration so we can then build your custom portal.
Phase 3 – Onboarding Session
The Onboarding Session is where we introduce your nominated Password Admin(s) to Practice Protect. It is broken into four parts:
Introduction to Practice Protect including App features
Invite the Password Admin(s) and team to the portal
Password Admin(s) navigation training
Email discussion to determine deployment
Phase 4 – Email & App Activation
Go Live day!
This is when your Onboarding Engineer works on the backend to complete the reset of your cloud application passwords thereby securing them safely within the Practice Protect Portal.
As well as activate your Email Integration, thereby securing your email system by applying security controls such as location control, MFA and session time outs.
To learn more about Email & File Integration with Practice Protect, click here.
What we need from you
To make this process as easy for you as possible we need:
A completed Setup Form listing the apps and users your firm uses.
A Service Account to your mail system (Office 365, Google Suites).
Your availability for the onboarding session and by phone or email as needed.
For more information on the user, onboarding click here.
For more information or to contact our onboarding team head to the Practice Protect Contact Support page.