This article provides a step by step overview of the entire on-boarding process.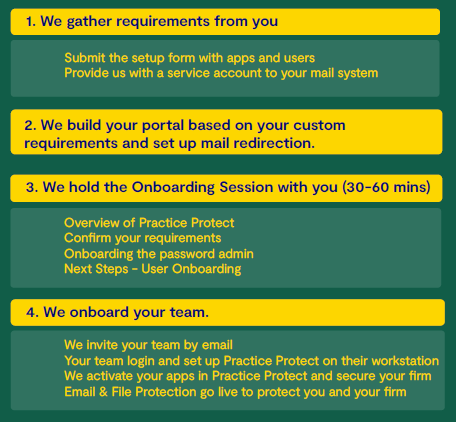 Step 1 – Gather Requirements and the Intro Call
You will receive an email requesting completion of the setup form and the creation of a service account.
The Intro Call
During the intro call we gather requirements, walk you through the process in detail and agree on the following schedules and other details for the onboarding process. The nominated Password Admin(s) is required to attend this session. No other team members are required. The call takes approximately 15-20 minutes.
Following the intro call we build and configure your custom portal based on your requirements, once sent through.
Step 2 – The Onboarding Session
The Onboarding Session is where we introduce your nominated Password Admin(s) to Practice Protect. It is broken into four parts:
Introduction to Practice Protect – An overview of the why, what and how of Practice Protect works including App Features.
Review Requirements – Review setup form to confirm requirements.
Password Admin Onboarding – We walk you through the setup of Practice Protect on your PC and show you the basics of managing it for yourself.
User Onboarding – We discuss and finalize the next steps, which are user onboarding and App Protection excluding your email system for a separate discussion around that.
Step 3 – User Onboarding
Immediately after the Onboarding Session, we'll ask your Password Admin to circulate an email to colleagues to notify them of the upcoming steps. In a separate email your team will receive a system generated invitation to setup their account just like they would any other web-based application.
We will need your Password Admin's help in following up your team during the user onboarding phase to keep the process flowing.
Step 4 – Email & File Protection
Practice Protect users get email and file protection along with their subscription.
Email & Cloud File Protection aka "Federation ADFS", "SAML" or "OpenID" is used to integrate Practice Protect accounts with the accounts of cloud applications such as Office 365, Google Mail, Dropbox, FYI Docs and Suite files.
The purpose is to extend the security controls that Practice Protect has like location control, multi-factor authentication, user logging etc to protect your company files and email stored in cloud-based applications.
To learn more about Email & File Protection with Practice Protect, click here.
What we need from you
To make this process as easy for you as possible we need:
A completed Setup Form listing the apps and users your firm uses.
A Service Account to your mail system (office 365, Google Suites, Exchange 2013+).
Your availability for the onboarding session and by phone or email as needed.
To be our voice in your firm and support your colleagues through user onboarding.
For more information on user onboarding click here.
For more information or to contact our on-boarding team head to the Practice Protect Contact Support page.